Well, this is random! And not at all baby related! But, this is my least abandoned blogging space so it's where I'm putting it. (I let go of my 'personal blog' when Damien was born, just like I let go of my personal self. Just kidding! But the me-time definitely did fall on the wayside, and it will stay there until early childhood is over. Anyway!)
Long drawn out pointless explanation: This quarter I am taking elementary education classes, even though I'm getting credentialed as a high school teacher, because eventually I want to be duel credentialed AND because these particular classes cover middle school, which I want to teach (and with an English credential I can teach grades 6-12.) (Also, because I needed to be in a minimum of 12 credits for a whole host of reasons I won't get into.)
Short explanation: I'm in a reading and writing methods class. We had to do a creative book share on a book for grades 4-8. We could use the same book we previously created a unit for (sidenote: my book was nonfiction about a female scientist in Antarctica and I LOVED IT) but I chose not to because YA lit is amazing. I have so many favorite YA books, but I decided to go with my very favorite: A Wrinkle in Time. (Yet another sidenote: it was the only book represented twice, because it really is that awesome. We even brought the same edition of the book to present.)
Here was my project:
The purpose of the poster wasn't to tell you what the book was about, but to make you want to read it. I included my favorite quotes (click to make them bigger):
I really liked how my poster turned out, but I ended up giving it to my teacher because it's really huge and I have no room in my tiny house and it would get wrecked in my garage in which case I'd be really sad, so why not leave it with someone who will put it to use? (I'm a little sad anyway.)
Also, in my research for the book summary that went with the poster, I realized just how many versions of this book I have owned over the years. I've had all of these covers (and may still; I have boxes and boxes of books in the garage, as well as some at my parents' and grandparents' houses:)
This was the first cover I owned:
I specifically remember getting this one from Barnes and Noble with a gift card, in a pack with two other books in the quintet (why just two? It wasn't a trilogy. I don't know!):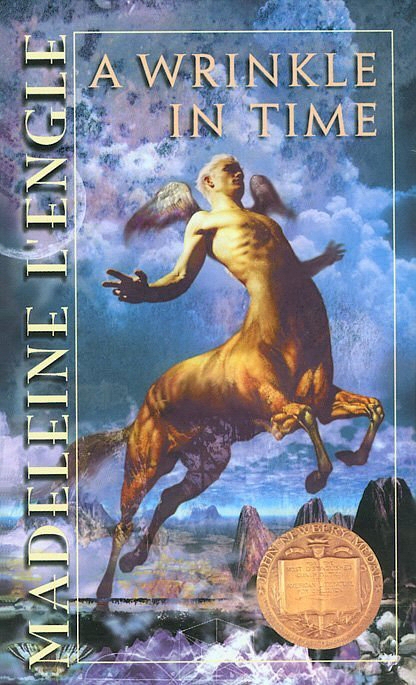 This is probably my favorite cover, because it's cute, and I remember the book smelled really good (what? Some books do! Don't tell me you don't smell books!)
Finally, this is the book I used to present. It's part of the boxed set and I really like the art on these as well.
(One last sidenote: the book cover of Many Waters, #4 in the quintet, has been much improved since the one I read growing up. Here's the boxed set version, and here's the one I had. Look at the awesome '90s boyband hair on the twins! This could have only been improved by this awesome-yet-terrifying cover. Now that I'm looking I think I actually had this version as well, which looks like a promo poster for a Christian rock band.)